Bee Island
A downloadable game for Windows

Bee Island is an adventure game about a young boy on his Grandpa's island learning to become a honey farmer. Explore an island paradise and discover all of the secrets it holds. Plant seeds and water them to grow flowers that lure bees from their hive. Use the different flowers to attract different bees and put those bees to work in a bee house. Collect and sell yummy honey to amass your fortune!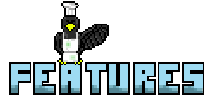 5 known bee species and more to discover
16 Bee houses to populate
Shop for supplies from local vendors or online
Use items to unlock new areas of the map
Awards System
Original graphics
RPG MV 3-D

Saving: In order to save, make a new folder in the same directory as the game, (if game is on desktop make a new folder on your desktop). Name the new folder 'www' (without the quotations) and make another new folder inside it named 'save'.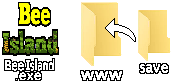 Tips: Check awards in pause menu for tips on what to do. Empty a jar in use in your items menu. Sell fish you have caught and eggs you find for extra coin.
Planned Features: Gamepad support, Character Creator, Holidays, more events and items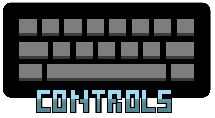 Arrow Keys / WASD
'Q' 'E'
Enter / 'Z'
Inspect (with magnifying glass equipped)
Dig (with shovel equipped)
Water seed (with jar equipped and filled with water)
Collect honey (with jar equipped)
Space Bar
Cycle hotbar (equipped item)
1 / 2 / 3
Select specific item in hotbar
Shift
Escape / 'X'
Menu (items, options, save)
Purchase
In order to download this game you must purchase it at or above the minimum price of $1 USD. You will get access to the following files:
Download demo